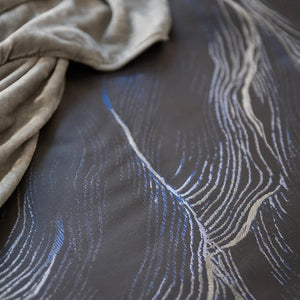 Helping you create a bedroom you love.
The craftsmanship and design of these products is exceptional! Highly recommend! Lifetime products!

Tracey B. via Facebook
A wonderful place. I highly recommend Guildcraft, and Cindy & her wonderful associates.

Suzanne M. via Facebook
Love the service and the owners are fantastic.

Michelle H. via Facebook
Love the store, the quality, and love in every piece that is made.

Valerie C. via Facebook
What amazing service! We won't shop for draperies, pillows or duvets anywhere else!

Cathy M. via Facebook
They make the best duvets ever!!!! I can't imagine sleeping under a "normal" bed spread ever again!

Beck M. via Facebook
Only good things to say. They are truly perfectionists.

Brenda C. via Facebook
Great duvet
I convinced my husband to buy a new duvet, and now he is delighted with this product too. You're not hot nor cold, just right!
Thank you for your review!
Warm, light and comfortable
Thanks for the wonderful nights of sleep. I retired my worn-out old duvet, and the result has been a delight. I plan to buy a heavy-weight one!
So cozy!
Wasn't sure what to expect, but it has been a pleasant surprise! It is much warmer than I expected, and I love the light weight.
Light yet warm
Definitely recommend this Canadian high-quality brand, we have had great nights of sleep since we started using this goose-down duvet. I'm not a cold sleeper so I chose the lightweight and it was the best decision for me and my wife. Just ordered another for our guest room.
Great product
I haven't noticed any separation of the down yet, but I will see how it withstands over time. I'm really happy with my purchase so far!
Perfect warmth & weight
Perfect for me, not too light. I have been using this duvet for over a week, it keeps me warm and is a great deal for the price.
Great quality
The is our third duvet from Guildcraft, and they have all been of excellent quality.
Mom-Approved
I bought this for my mom, who is a cold sleeper and needs 3 or 4 blankets during winter. Would say she is a tough judge of bed linen, and now she is totally amazed by this duvet. In her words, it is the perfect combination of warmth and light. I now definitely need one for myself!
No cold spots
Lightweight and warm but not hot, and no cold feet anymore. I totally recommend this duvet if you are always cold like me!
Can't stop cuddling in it
I have already recommended this duvet to my friends and family! The fact that is made in Canada makes it an even better purchase.
HEAVEN
After a few days and some fluttering, it feels full, fluffy and super soft. Now going to sleep feels like heaven, wish I had bought it years ago!
Can't get out of bed
I read the reviews before purchasing, and it did take a few days to fluff up, but it was worth the wait. Amazing quality, and just the right amount of weight for me and my partner, the temperature has been perfect so far, but not sure if it will be too warm in summer.
A great investment
I am so happy I spent more money on such a good quality product. Would buy it again but I can tell it will last for a long time.
20 Years and Still Holding Strong!
We purchased our duvet 20 years ago from Guildcraft. It is still in perfect condition and still brings us warmth on the coldest days without overheating us on the not so cold days. Our son needs a duvet so of course we are coming back to purchase from Guildcraft. Thank you for creating long lasting products that continue to last!
10/10
I am very happy with this product, next, I will order the pillows to complete my perfect down combo. I would only recommend you compare measurements before ordering to match the sizes.
Light & Warmth
In contrast to my old feather duvet, this goose down gives you the perfect balance of warmth and lightness… just what I was looking for.
Like a cloud in my bed
It looked a lot thinner than expected when I took it out from the package but it fluffed up after a couple of days. It is perfectly warm and sleeping has been such a delight. I'm very happy to find this quality made in Canada.
Super cozy
I am thrilled with my new duvet! I've tried many other options and finally found the right combination of softness, warmth, and coziness.
Pleasantly warm
I wasn't sure if this duvet was going to be too hot for my cold room… I've never had a goose down before so I didn't know what to expect. It was a great choice, it feels inviting and gives me the perfect amount of body warmth.
Window Treatments
Work with our team to create ideal window treatments for your interior. We offer design and installation of Blinds, Shades, Shutters and more in the Greater Toronto and Guelph areas.
Please call to book a time, to visit our store @ 519-763-7651.

We have flexible hours and appointment times available. You will receive our undivided attention during our time together.

If you would please call ahead to discuss what you are looking for with information related to your project, we will be prepared for you, when you arrive in order that we remain more efficient, with our time together.

*If you missed this message on our website and have arrived at our door, if we are at the shop, we will do everything we can, to accommodate you.*

We are booking in-home consultations for check measures for blinds, drapery, furniture and upholstery estimates and other interior decor appointments as required.

We look forward to meeting with you.

Cindy & Jeff

Guildcraft The Duvet & Pillow Co. & Interiors Inc.
32 Wilson Street
Guelph, Ontario
N1H 4G5

519-763-7651